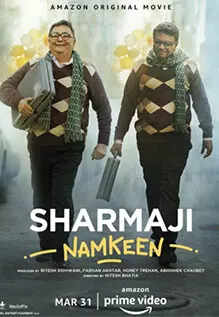 [ad_1]

Sharmaji Namkeen
Story: Sharmaji, (played by Rishi Kapoor and Paresh Rawal) a 58-year-old Delhi widower struggles to cope with his new retirement. Yearning for purpose and some company, in a bid to keep himself occupied, the single father decides to follow his long-standing culinary dreams. Do his adult sons approve of their father's cooking shenanigans and new found voice?
Review: 'Get busy living or get busy dying'. Routine is quite underrated, isn't it? Sometimes, even a dead-end job can keep you going. Life passes by for Saajan (Irrfan's character in The Lunchbox). Days become months and months turn into years as he sincerely meets his 9 to 5 duties. That routine helps him sail through. Sharmaji's former home appliances job is no different here. It has kept him busy and sometimes that is all that matters. Post retirement, whatsapp groups and his love for cooking leads him to a ladies kitty gang (led by Juhi Chawla). He finds solace in their mundane chatter and despite their privilege; the women are as collectively desolate as him. Through a slice-of-life, simple tale, director Hitesh Bhatia makes a light-hearted but moving case against ageism and gender stereotypes.
Nancy Meyers' The Intern starring Robert De Niro or Shoojit Sircar's Piku can be termed as exceptions. Stories about elder people are rarely told with chutzpah and if at all they do get made, they often have an undercurrent of tragedy or regret. All grown children are ungrateful and all troubled parents, an epitome of sacrifice and tolerance. Real life is rarely one dimensional though. Sharmaji Namkeen cleverly evades the Baghban trope and offers a refreshing take on self-love, loneliness and single fatherhood.
While everyone has an opinion, no one's a villain here. Sometimes, the only hurdle you must overcome is the baggage of your own inhibitions. Bhatia's protagonist doesn't wallow in self-pity as someone his age ideally would in our movies. The lead character is kind but doesn't cave under pressure. He is a doting father but doesn't compromise on his self-respect. The characters are as real as they can get and their situation, relatable.
Peppered with scrumptious Delhi street food (Aloo Tikki Chaat, Dahi Bhalle, the works), the film is breezy, humorous and uplifting. At no point does it get preachy or dramatic and striking that balance was tough. With no blatant conflict, how do you make the audience root for the protagonist as he's no victim and there's no oppressor. Like Shakun Batra, Bhatia presents an authentic depiction of a flawed but endearing child-parent dynamics, which becomes a highlight of this movie. People can co-exist as a family despite the differences.
A posthumous release, who better than Rishi Kapoor to portray a character, who loves his family and food. The late actor was blessed with the ability of baring his soul in every character he essayed. Like his illustrious father Raj Kapoor and son Ranbir, there was an inherent honesty and spunk in Rishi Kapoor that reflected in his roles. In his youth, his good looks often overshadowed his versatile talent. Over time, he made sure he retained that charm while giving some distinctly memorable performances and Sharmaji can be termed as one of his finest. While Paresh Rawal was gracious enough to fill in for the portions that the former couldn't due to his deteriorating health, this film belongs to Rishi Kapoor alone. It is he who leaves you teary-eyed with his smile and a thought. Indian parents are so used to prioritising their children. What happens when they decide to turn the tables? Is self-love deemed reckless and selfish because parents are expected to toe the line? Sharmaji Namkeen gives you food for thought.
[ad_2]

Source link