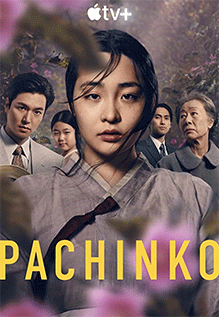 [ad_1]

STORY:
'Pachinko' looks back at the plight of Korea under Japanese rule. It begins with the story of forbidden love in difficult times and follows an epic tale of a Korean immigrant family across four generations.
REVIEW: Based on author Min Jin Lee's bestseller 2017 novel, 'Pachinko' portrays the harsh reality of the Japanese invasion of Korea and its prolonged aftermath that continues to trickle down across generations. While the word Pachinko refers to a Japanese arcade game, close to the pinball machine, the movie delightfully uses it as a metaphor to explore the hopes and dreams of a woman, Sunja and her Korean immigrant family.
The multigenerational saga picks up a slow pace as it chronicles around Sunja at three different stages of her life. While Academy-Award winner Yuh Jung Youn plays the role of Sunja in old age, actress Minha Kim equally shines with her portrayal of Sunja in her teens. The narrative follows the novel in great detail as Yuh Jung Youn brilliantly holds together the fragments of two timelines, past and present.
It all begins with Sunja, the modest girl of a poor-working class Korean family in the early 1990s. It transcends Sunja's innocence when she falls for Hansu who has connections with organized crime in Japan and gets pregnant with his child. Scared to bring shame upon the family for bearing a child out of wedlock, Sunja is offered help from a young pastor who proposes marriage and a new life in Japan.
Each character brings their best to the story with their honest shades of grey. Lee Min Ho deserves a special mention for shedding his boy-next-door appeal and stepping into the shoes of an anti-hero character. Besides impressing with well-tailored suits and fedora hats, his versatile acting chops get tested here to the fullest followed by Jin Ha packing a punch with his sincere role. All in all, the entire cast is as natural as it gets with a special cameo surprise for the audience.
Coming to the cinematography, the 8 episodes are equally divided between director Kogonada and Justin Chon. Their artwork does justice to bring alive the historical facts with an epic difference between Korea and Japan. From capturing a few scenes from New York to showcasing the Tokyo skyscrapers to rural Korea, the stunning vintage-style visuals help to connect with the characters. There's added attention to detail as each episode comes with a mix of Korean, Japanese and English languages in colour coded subtitles that helps to make it visually a tad bit easier. The opening credit scene is equally refreshing.
To sum it up, 'Pachinko' is not a sugar-coated love story but a timely dramatized piece on the hard-hitting reality that goes beyond the usual mix of romance, drama and history. Bringing back the bitter past, it dwells around the ugly truth between Japan and Korea through generations. From artsy visuals to sincere portrayal of the characters, to the beauty of the shifting timelines, 'Pachinko' stays true to its claims and emerges as yet another tastefully curated masterpiece from the East.
[ad_2]

Source link