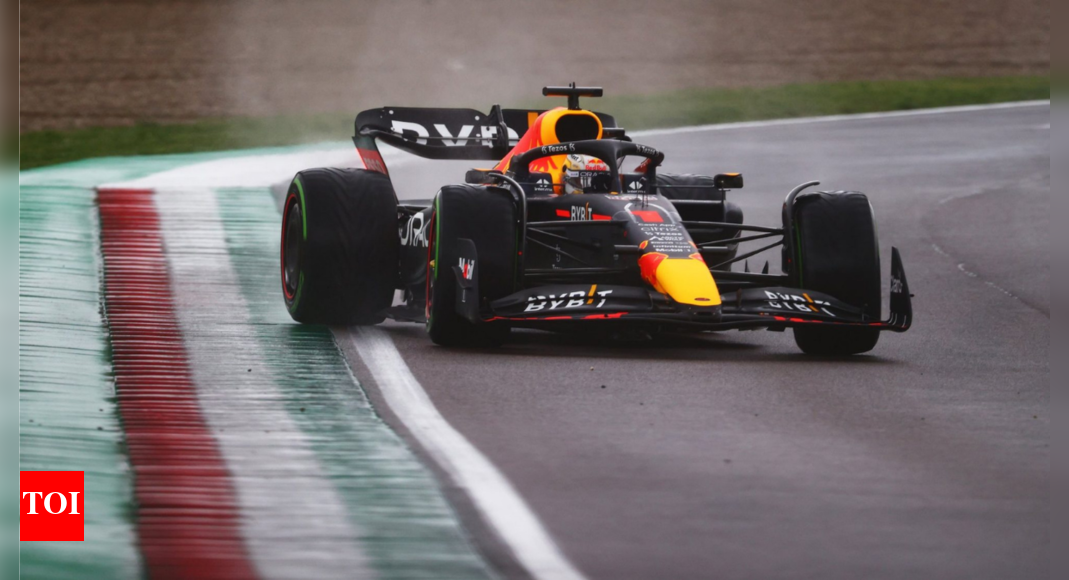 [ad_1]

The 2022
Emilia Romagna Grand Prix
qualifying ended with
Max Verstappen
securing the pole position in Sunday's race and tomorrow's Sprint, with
Charles Leclerc
of Ferarri and McLaren's Lando Norris taking the second and third positions respectively. The rainy weather condition at the Imola circuit resulted in red flags coming out in all of the three qualifying sessions of the 2022
Emilia Romagna Grand
Prix!
Take a look at how today's dramatic
Formula 1
qualifying session went down at the Autodromo Internazionale Enzo e Dino
Ferrari
'Imola' circuit, one of the few tracks to run in an anti-clockwise direction –
2022
Emilia Romagna Grand Prix Qualifying Q1 Results
Charles Leclerc of Ferrari led the first qualifying session of the day, followed by Max Verstappen in second. Carlos Sainz finished third. Zhou Guanyu came fourth, while Sergio Perez took the fifth spot. Q1 had a brief delay when Alex Albon's rear wheel caught fire, throwing debris all around the track, also cutting his stint short.
Mercedes' Lewis Hamilton survived elimination by the skin of his teeth, just +0.004 seconds ahead of Yuki Tsunoda. Apart from the Japanese AlphaTauri driver, his teammate Pierre Gasly, Nicholas Latifi, and Esteban Ocon were also knocked out in Q1.
2022 Emilia Romagna Grand Prix Qualifying Q
2 Results
Q2 was cut short due to rain, with most teams deciding to keep their cars pitted for the major part of the second qualifying. Carlos Sainz, who recently signed a new two-year contract with Ferrari, suffered a crash in Q2 when his car slipped and hit the barriers. However, rain halted the second qualifying session, resulting in the Spaniard retaining the second spot on the grid. George Russell, Mick Schumacher, Lewis Hamilton, Zhou Guanyu, and Lance Stroll were eliminated in Q2.
2022 Emilia Romagna Grand Prix Qualifying Q3 Results
The final qualifying of the day saw all nine drivers switching to Intermediate tyres since the track was still relatively wet. Just like the previous two qualifying sessions, Q3 was also paused due to red flags, however, the race was halted three whole times! First when Kevin Magnussen's car slipped, the second time when Valtteri Bottas got stuck on the grass and couldn't move, and for the third time when Lando Norris barged into the barriers.
With just 38 seconds remaining after the McLaren crash, the session came to an end, meaning the top 10 remained unchanged. Max Verstappen takes pole position at tomorrow's Sprint as well as the 2022 Emilia Romagna Grand Prix on Sunday, joined by Charles Leclerc in first row. Lando Norris takes P3, with Kevin Magnussen behind him on P4. Fernando Alonso, Daniel Ricciardo, Sergio Perez, Valtteri Bottas, and Sebastian Vettel take the 5th – 9th positions respectively.


[ad_2]

Source link