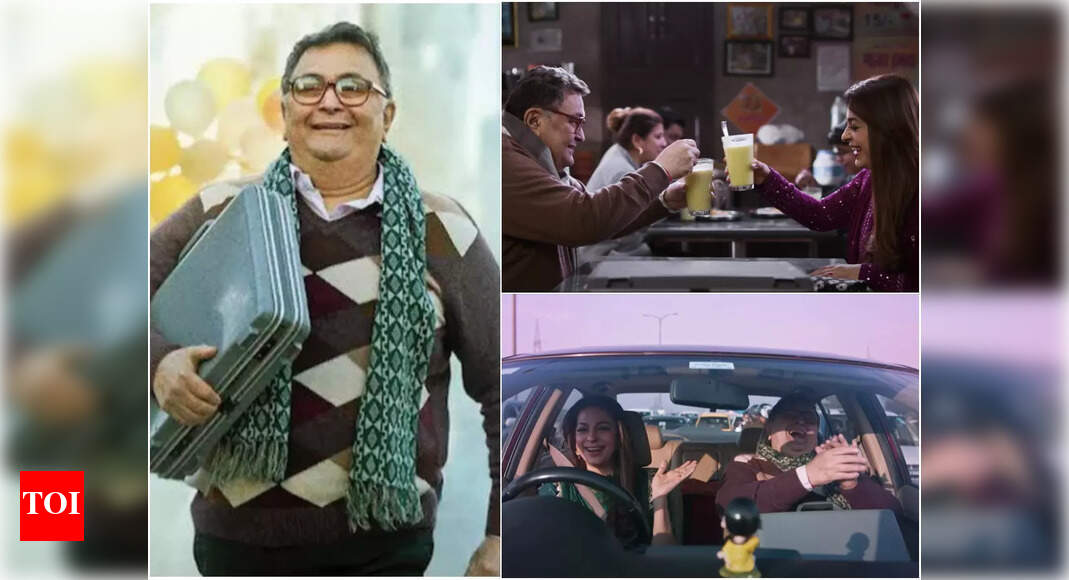 [ad_1]

Rishi Kapoor's untimely demise came as a rude shock to the entire film fraternity. Almost two years later, the whole world would be witnessing his last film 'Sharmaji Namkeen'. The film, where Paresh Rawal stepped into his shoes to complete the remaining parts, is all set to release on March 31. In an exclusive chat with ETimes, co-star
Juhi Chawla
and director Hitesh Bhatia get emotional talking about the film and working with Rishi Kapoor. From considering
Ranbir
Kapoor to complete the film to getting Paresh Rawal on board and everything in between, here are excerpts from the conversation:
Juhi, you've had so many memorable movies with Rishi Kapoor. Now as you're witnessing his last film releasing almost 2 years after his demise, how do you look back at your association with him?
Juhi Chawla: There's a mixed bag of emotions. I'm very happy and grateful. I congratulate the team for having completed the film. I think that's a big achievement. I loved working with Chintu ji. I've worked with since the early days of my career, and then off and on again, and 'Sharmaji Namkeen' was such a wonderful script. When I heard it, I have to just confess, as an actor, this was a film tailor-made for him. When Hitesh was narrating the film to me with the dialogues, I could imagine in my head, how Chintu ji would do it. It's a wonderful, warm, heartwarming film. Unfortunately, we lost him. And by just working with him in the last few days, when I did join the movie, I learned so much just in those couple of days from him as an actor. His every take on the sets… (when) Chintu ji's shot would happen, I would be watching him either on the monitor or in person because I'm standing in front of him. And his shots were just so wonderful. As an actor, I started becoming more insecure and envious of Chintu ji, because he was doing so fabulously.

Hitesh Bhatia: I think both of them were just amazing. She's just being too modest about that. But the entire process was just very amazing for me as a director, because Chintu ji just had no process. I had done multiple readings with Juhi. And Rishi ji would never really discuss anything, he would just read the scene and he'd say, 'Okay, let's do it.' And then he'll just do a take, and then I'd always be wondering, I want to do another take. But what else? So how do I get another take? You know, what do I tell him? So (it was) quite an experience, that every actor has a different process. So I think it was fabulous. It was a learning curve for me to work with these two people who have just been in the industry for such a long time. So it was a resounding okay to both of them. (Laughs)
Hitesh, the trailer looks great, and it didn't feel like we were looking at two different actors. Paresh Rawal and Rishi Kapoor both are institutions of acting in themselves. What was the kind of creative brief or notes that you had exchanged with them?


It was a very different process, of course a very difficult choice when Rishi ji passed away. My brief was very, very simple. To be honest, it was just one simple line of brief to Paresh ji that just be Sharma in your own unique way, you know, whatever Chintu ji has done, that was his interpretation. And this is what Sharma is. He read the script and he just could not contain the excitement about the script, because he was just so fascinated about the story. So I think he just made it his own. We never really had any readings or workshops or exchanged any notes beyond one or two or odd discussions. That's the end of it. Because I just told him that you don't have to ever worry about how Chintu ji or how he played. You just make the character your own. And I think that just worked out very beautifully in the end for all of us.
What was Ranbir Kapoor and Neetu ji's reaction to the film and the decision to have Paresh Rawal fill in for Rishi ji's absence?


Hitesh: It was a very emotional thing for them, because it is Rishi ji's last film, and I think everyone was very, very keen that we finished and presented it to all his fans. And we did actually consider Ranbir also with prosthetics to finish the film and take that route also. We discussed and we tried, but nothing was working out. And then within our discussions, we wanted to try another actor. But as a director, it was a very tricky situation, because it has never been done before. So I had no idea how this would happen. So then we took that step, and we moved forward in that direction. And then Neetu ji and Ranbir were just more than happy. We were glad that we could eventually finish the film and present it to the entire world.
Juhi, apart from the chance of reuniting with Rishi Kapoor, what were the other factors that compelled you to say yes to this project?


Juhi: The script itself. It is so sweet. It keeps you smiling. It's a slice of life. You love the characters. They are so nice. They're so real. And it's the story of this late 50s, early 60s, person who has just retired and doesn't know what to do with his life. And then how he eventually gets into a situation which then gives him a different direction, which normally everybody says, 'Yeh kya kar rahe ho'. Then it opens a whole world for him that makes him happy and he has new friends, and possibly a more exciting life than he ever had before. It's wonderful. And as I say, it was so Chintu ji. Lucky, crabby, and very funny. I smiled through the whole narration. And then the film got these emotional moments towards the end, it makes you believe that it's a complete package that you want to see. It's a family film.

Hitesh: We always kept Juhi ji and Rishi ji in mind while writing, It was a dream come true. Because if one of them had said no, we really wouldn't have figured out how to go ahead with that. Because from day one, it was very clear that only both of them could really do justice to this. So it just all fell in place. And she just loved the script so much, and then of course, the kind of equation they both share, so on set it was just like a big joy ride because they're pulling each other's legs, something is happening.
Juhi, being in the entertainment industry for decades, you've seen Bollywood grow. And now with your OTT debut, do you feel there's a pressure of staying relevant?


People may have expectations, social media may have expectations. But I've made up my mind, I will not dance to anybody's tune. I just want to do films, projects, which I like. So I loved this script. Whether it came on OTT or whether it came in the theatre, that was not for me. It is not even today for me, like the reason or why I may have done it at the same time now. Because earlier, it was supposedly, maybe, a theatre film when we started it, now it's an OTT. I think the advantage of being on an OTT platform would be across the world accessibility when it releases. It would be accessible to young, old, across the planet anywhere you can watch it in 240 countries that it will be released in.
Hitesh, the film also came as a responsibility to honour Rishi Kapoor's talent and standing. Was there pressure being at the helm of his last film?

I don't really see that as pressure. Because I was very, very confident of the script that we had, I was very confident of the film that I wanted to make, and the story that I wanted to tell. And it was very organic, the entire process of casting, of getting Juhi ji, Rishi ji in the process. And when he was no more, again it was a very tough time because one thing was very clear, that everyone (including) Ritesh, Farhan, from day one, they told me that they will finish the film, and they will put it out there for everyone to enjoy that film. So that was a very reassuring thing coming from the producers, that at any cost we will finish the film. That's why I'm saying whether it was VFX or Ranbir doing prosthetics… So even when he came, the only pressure I would say is to just do justice, that what he stands for, and when another actor comes in the play, it should just make sense. We should just not do it to just finish the film, it should remain the same film. And I think that was the only challenge that was there, and fortunately, I would say that we achieved it.

[ad_2]

Source link