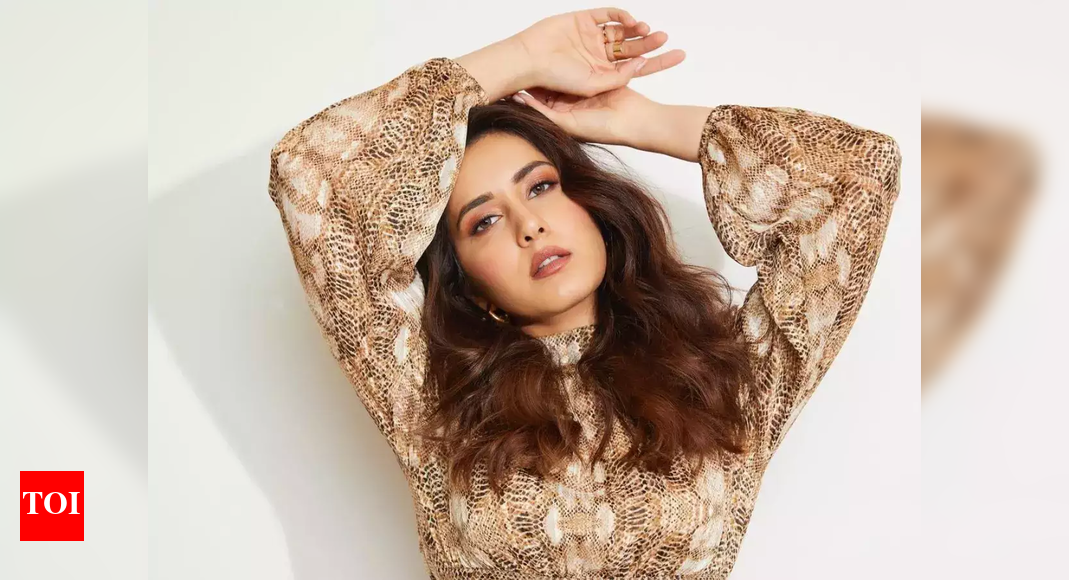 [ad_1]

Raashii
Khanna earned all the praises for her last stint on OTT with
Ajay
Devgn, '
Rudra
: the Edge of Darkness'. She will soon be making her comeback to Hindi cinema with '
Yodha
' starring Sidharth Malhotra and Disha Patani. In a candid chat with ETimes, Raashii opens up about her long stint in the South film industry, working with Ajay for the first time, the difference in South and Bollywood, her struggle in the industry and more. Excerpts:
You have explored so many languages in the Indian cinema…

I think it feels amazing to have tapped all the industries because every time you work in a certain industry, in a certain language, you become closer to those people. And I think dubbed versions are very different but when you learn that language and you speak in that language, you come into their hearts and that's exactly what I've done in the South. I hope to do that in the North as well now.
You started your career with John Abraham, and now when you look back at your journey this far, how does that feel?
I think it's a very nice feeling. I never thought I'll get this far. I was somebody who had put limitations on my own self considering that I never had anybody's backing in this industry, there was no Godfather, there was nobody guiding me, I had to take my own steps, I had to understand it and I knew nothing about the industry, how it works. I think I was just honest with my work and I just thought that I'll work hard and let's see where it takes me, and today I'm here and I've started back again from where I started, in Hindi. So I think it's all God's grace. Also somewhere because I really believe in God, I feel that it's his grace and probably a bit of my hard work. It feels great.

Where were the hiccups and how did you deal with those hiccups?

In the South, your successes decide your future. If you have flops back to back, you might not get a film, no matter how talented or good looking you are. It really doesn't matter, what matters is your success. And there was a phase where I had flops, everybody has flops. I was a little sad, it's human but I had so much faith in myself that I was always like,' No, I'll get through it'. I was getting films which I didn't want to be a part of and I absolutely said no. And that is one thing that I learnt from John in the beginning of my career. He said, 'Raashii, learn when to say no and take that seriously in your life' and that's exactly what I did in my professional life. At times to fill in a gap, you think 'let me just do it'. I didn't do those things and I waited it out and that's always been my thing, to be a part of a film only if I'm convinced that I want to do it and that's really helped me come so far. Of course, there have been hiccups and there'll be places where I've thought that where is this going. May be it will end. You always have those kind of questions. I would say that it's also my self-belief that has led me to where I am today.
Your recent work with Ajay Devgn has been praised a lot. How was it working on 'Rudra: The Edge of Darkness'?

I was scared. I'll tell you why because it's a very eccentric character firstly, then the look of it is quite crazy. The whole point of giving me red hair or to do that makeup, was to make her look eccentric. Now that can go down very well also and very badly also. So, of course, I was nervous about its release. The South audience has always seen me like somebody who's a girl next door you'll fall in love, take her home and suddenly when they see me like this, they're like, 'Who's this girl!' So I had that fear that they might not like it, I didn't know how the Hindi audience is going to react to it. But as I said that I have so much self faith that I was like, 'I will convince them with the character, I will convince them with my acting.' And I think that's exactly what has happened and I'm very thankful that it's happened. People have not seen Raashii, they have seen Aaliya, the character and that's happened to me for the first time. So I think that the experience of it has been great, of portraying somebody like her, a sociopath like her and I don't think that these characters come to women so very often. I think I've just been very lucky and I've had the opportunity to play her and it's been fabulous.
Did the metaverse world interest you somehow?
I think the first question I had was, 'What happens in a metaverse?'. I was like, 'What is that? What do you do in that?' I had played some game where you put that up and you actually feel like you're in that world of zombies, killing something. I had gone with my friends and done that but I didn't know that we could do it with films or create a virtual world like this. And I don't know whether to feel good about it or bad about it because we're just heading towards using more and more technology. Of course there are pros but there are so many cons. I don't know how to feel because I think we are in a generation who's just in that transition, so we don't understand whether to be very happy about it or to calm down and just don't keep doing things.


Did you get your Valentine's day gift from Ajay Devgn?

Oh no, no gifts. I think he'll have me chase him down in the second season again.
But you're lucky that he didn't play a single prank on you.
I got to know later that he's somebody who plays pranks on his co-stars.
He's probably saving himself something for the second season.
Yeah, he'll be like, 'Let her warm up and then I'll show her in the second season'. But I think that it's been fabulous working with Ajay sir. In fact, I would love to do a film with him and that's what I was telling him. I said, 'Sir, now the first season is released and the people are really liking it, now we have to do a film. Let the season be but let's just do a film, where I'm normal, not like a psychopath that I play.'
What difference have you noted between Bollywood and South film industry? Do you feel that the struggle here is more as compared to the South industry?

I think that the struggle is everywhere for survival. It's a universal thing. But what I feel is that the working pattern in the South is much more easy going. Because there we work 9-6, maximum shifts are 9-6. Here we shoot sometimes from 9 to 9. So when I initially started I wondered how do you have a life. Because you're working constantly. In the South, you do 5-6 films in a year and here you do 2-3. So you balance it out, but I still feel that the work culture was very different from here. You have to work longer hours here and I didn't mind it because I love acting and I just had time. And I just took the time to adjust then in terms of the fans. I feel that the South fan clubs are huge. They're crazy fans, they love you to the point where they feel like you're God. So they do poojas for you, they'll have tattoos of you. I haven't seen much in the North, except probably the Khans because we've grown up watching them and we are also fans. So that kind of fandom is not there. Plus they are very loyal fans, they don't keep changing, they're very loyal. Those are the two things that I've seen but apart from that I think that both places have that thing of creating great content, they're all passionate about making great films. And I'm still exploring the North, so I still want to see what differences I will notice. But in the three projects that I have done, there's nothing more than this.


Do you think survival is difficult here?
See if you are good at your act, I still feel that you have a longer run. Looks can only take you so far, of course they'll take you somewhere. But then there are connections, there are obviously people who promote their own kids which is completely fair. I'll promote my child, if I have one. So I think all of those factors are there but at the end of the day, I still believe in destiny a lot. No matter how much you try, if you're not supposed to be in a project, you won't be in it. So I think that it's talent, but it's also destiny and there's no point in feeling sad about it. Just work on yourself. So every time I go to bed, I always think that I've used all my hours, I've worked really hard and that's all I can do. Nothing else is in my hand, so why cry about it. I think I've been blessed to have those opportunities. So I think it's a very personal question, to each their own but for me, I just live in gratitude and take every day as it comes.
Which is that one bad memory of yours, when you felt broken and somehow managed to get back?
I think there are some films where you just get replaced without really being told also. That hits you because you're like, 'At least have the courtesy to tell me and not from sources'. I think that's just indecent and that breaks you because you're like, 'At least give me that much respect'. Of course, I've gone through that but not anymore, it won't happen. But I've gone through that and I think it's really unfair for anybody to be treated like that.
One message for your fans out there.

I would just say that you guys have been so kind and nice and so loving. Thank you so much for all your love, it means so much and I hope that I don't disappoint you ever. Please keep loving and supporting me.
[ad_2]

Source link