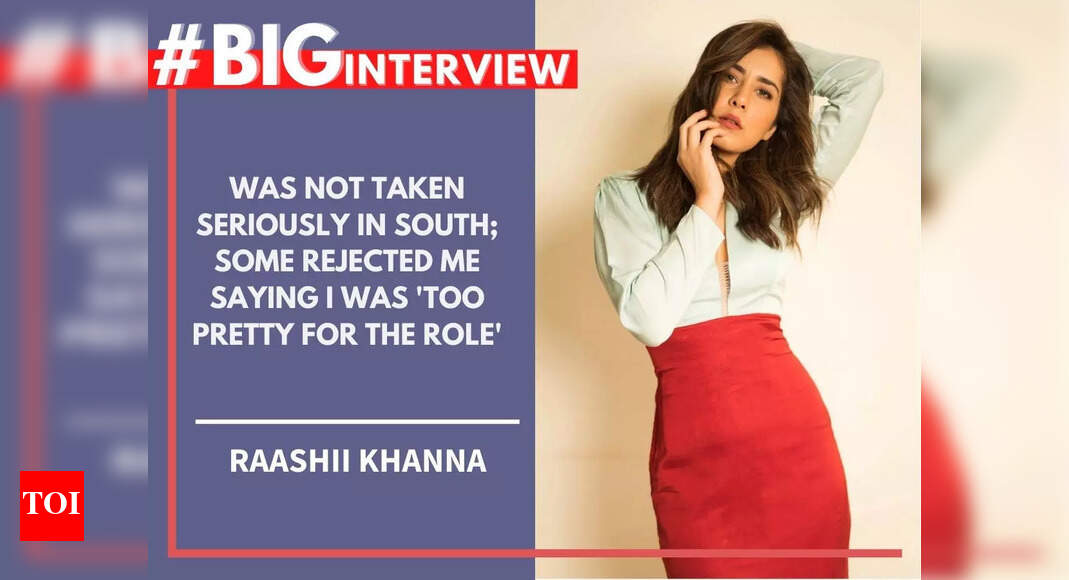 [ad_1]

Raashii Khanna
is basking in the success of her first Hindi web series 'Rudra: The Edge of Darkness', co-starring
Ajay Devgn
. The actress will soon rub shoulders with
Sidharth Malhotra
and Disha Patani in Dharma Productions' 'Yodha'. But unlike popular perception, 'Yodha' isn't her
Bollywood
debut. Raashii first appeared on the big screen alongside John Abraham in 'Madras Café' in 2013 and delivered a convincing role as Major Vikram Singh's wife, Ruby Singh.
After a smooth Bollywood debut, Raashii jumped straight to foray into the South film industry and tasted instant success with her critically acclaimed Tollywood debut 'Oohalu Gusagusalade', co-starring Naga Saurya. And then there was no looking back as she went on to work with some of the biggest names in the industry.
In this week's Big Interview, the 31-year-old actress opens up about her secret to success in her acting career, returning to Bollywood after almost 9 years, her experience in the South industry, handling criticism, personal life and a lot more.
Excerpts:


You got to work with Ajay Devgn for the first time in 'Rudra: The Edge of Darkness'. He is known to be a very intense actor…


I have always seen Ajay sir's work and I have known that he is a very intense actor. I knew that I might feel intimidated by him because he is a huge star but I remember on the first day, he broke the ice for me. He has been extremely supportive of me. Whatever I have done in the show, it's all thanks to his support, otherwise I couldn't have pulled off the character of Aliyah in 'Rudra'. There was a scene where Ajay sir interrogates me and I break down, then I had to change my expression and become the cunning woman that I am. So, when I was doing that emotional scene there was a place when I said, 'I can't do it anymore!' I really felt stuck. Ajay sir was there with me, and he told me, 'Just shut your eyes and sit there in silence and you will be ready. Just give yourself time, don't take pressure.' It was true, It was my first day and I was under pressure. He didn't have to do it, but he was always helpful because he wanted me to give his best. I have seen a very secure actor in Ajay Devgn who shines in himself and makes sure other people shine as well. I think it's a great quality. This is something I have learnt working with him, the importance of the scene, more than acting.
From 'Madras Café' in 2013 to 'Yodha' in 2022, it's taken you quite a long time to return to Bollywood, whereas you had a series of Tamil and Telugu films back to back. Was there a dearth of offers from Bollywood?


After I did 'Madras Café' there was no plan that I want to do Bollywood films now or only South. I was looking for content and I got it in the South when I signed my first Telugu film 'Oohalu Gusagusalade', it was a great film. At that time I didn't get the film offers that I wanted, I was clear that I will only sign a certain kind of film, I just don't want to be a filler in a film. South films opened up that avenue for me and gave me a lot more than what I was asking for. I just went with the flow and never thought that I have to go back to Hindi. This is because it's cinema and language doesn't matter. Cinema is a language in itself. Things just happened on their own and I feel happy to do Hindi films too because it's my home, it's my language. I feel very comfortable. It's easy as an actor for me to express myself in my own language. There was never a rigid plan. You can't really plan as an actor because it's about what you get and not what you want.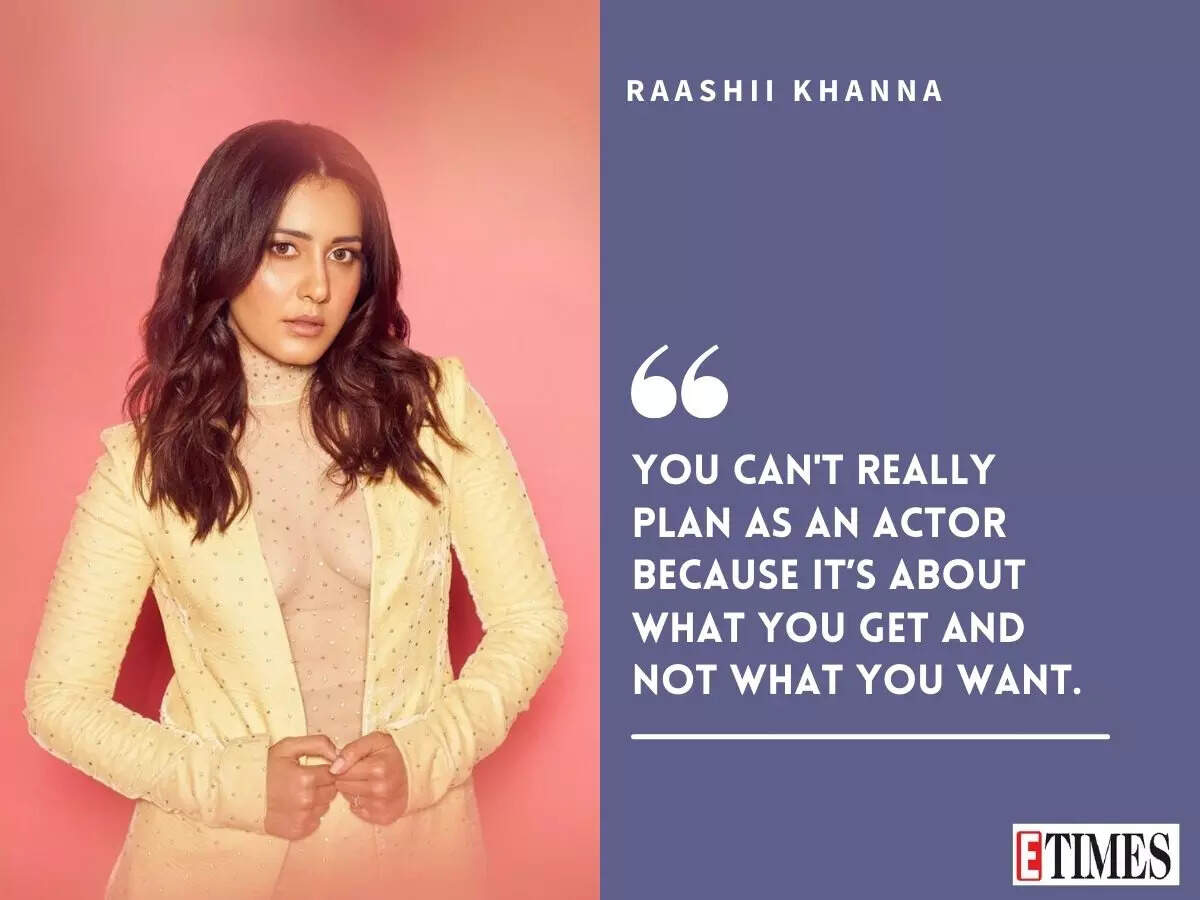 Tell us something about doing 'Yodha' with Siddharth Malhotra and Disha Patani.


My character is the heart of the film, you will know once you see the film. Sidharth is there and that's just a part of the film. I played a really authoritative figure, somebody who stands on her own, someone you would really like to see on screen. I am very happy about it because it's very well-written and different from what people have seen of me. I might come as a shock to the people and be like 'Oh this is Raashii! Is she the same girl from 'Rudra'?' It's a girl you will fall in love with. I think I'm very blessed at this point to have 'Rudra' and 'Yodha' or even the series with Shahid Kapoor. People are going to love them, I am sure.
Tell us more about the series with Shahid Kapoor!


It was the first project I signed but 'Rudra' was released before it. I have very strong characters in both. The best part about working with Raj & DK sir is that the story is the real hero here and the character revolves around it. All characters have equal importance in the series. With my role, every woman is going to relate, that is something I can say. Not much I can reveal about it now, but I am very proud of the show. I hope it comes out very soon.
So all your upcoming projects portray you in strong, women-centric roles…


Yes…
Do you fear being stereotyped?


I don't think so. I won't get stereotyped, because I have done commercial films in the South where there is not much for the girl to do but just look pretty. I have done Tamil and Telugu love stories with good characters for that matter. I have been in the Malayalam film industry where one can't survive without acting and now in Hindi. The best part is that I have broken all those stereotypes which were getting created in the South because they just looked at me as a pretty face. It all got shattered after 'Rudra' because I played a different character with so many grey shades that you can't really stereotype me after that. Now I have the Shahid Kapoor-series and 'Yodha', it's more versatile. I don't see a space to stereotype me. I don't think it will happen.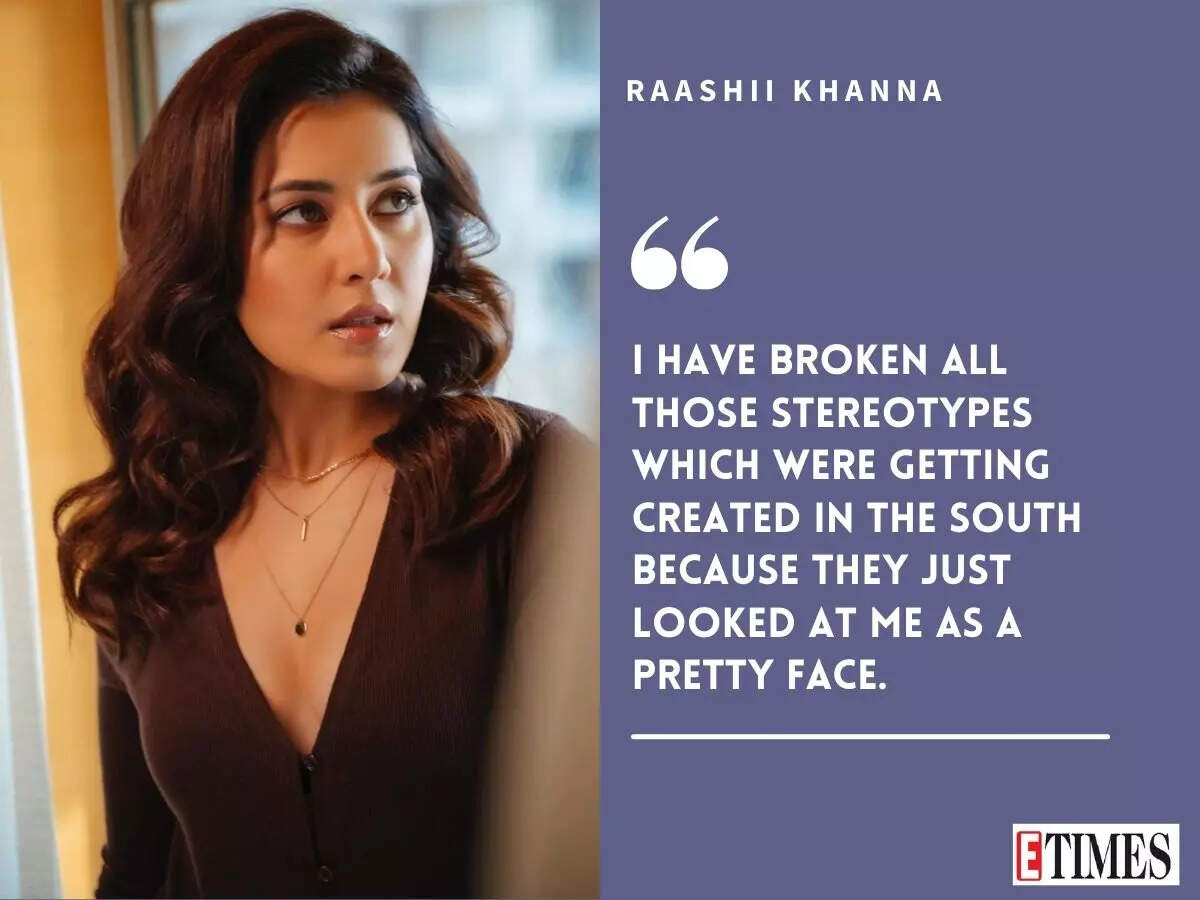 Vijay Deverakonda, Naga Chaitanya, Prithviraj, Venkatesh, Mohanlal, Ravi Teja, Jr NTR – you've worked with some greats of South cinema. Were there apprehensions working with them? How did you ensure you'd stand out?


Honestly, I have never been starstruck. I think it has helped me. I am a confident actor, I can say this about myself. Even if I am in a frame with whoever it is, I stay true to my character because if I say that I am intimidated, then I have failed myself as an actor. Acting is my craft. I think I have never really bothered who is in front of me, I have always cared about my character and scene, that's what I have done. Probably it has set me apart also. I think staying true to the craft is the way to go.
These days celebs have to maintain an active presence on social media. How do you deal with the negativity that comes along with fame?


I have been in the industry for so long that I can tell you that the negativity does not bother me at all. This comes from a place probably because I am very spiritual. I understand why so many people do such things, they are frustrated and they think actors are easy prey and keep latching on to it. Some do it to get a response because they are shameless or some do it to take out the frustration, there is not really anything genuinely there. The negativity is all for attention, most of it I would say. As an actor, obviously, criticism helps you grow but I don't see criticism there, it's just bashing people left, right and centre. It doesn't bother me because it doesn't make me sad. It makes me feel good that they have to do this to get my attention, that's how I deal with it. I know my limitations, positives and negatives. I keep working hard on myself and such things don't bother me.
There's always a positive side as well…


There is, yes! There is so much love I take for me.
Coming back to your personal life, there have been a couple of link-up stories in the past. Are you dating?


I won't answer that question ever! You will see me if I am married or have kids, I don't have to answer. I feel my personal life is my own. If you want to know about my film, I will tell you. It's called personal life for a reason, it will be personal. I have always been like that even in the South. I don't react to anything unless it affects my family in any way. I have always maintained silence on anything written about me with my personal life because I don't have to tell everyone.
What are your thoughts about sexism in the entertainment industry?


First thing I believe is that women need to start supporting each other. I do see that happening but I don't know how genuine it is. Personally, I think we need to root for each other and not pull each other down, then only we can go forward in life as women together. Of course, there are many women who helped us to come to this place, half of the freedom is because of the women who have come before us. We have to take that fight forward but we have to do it in support of each other. We are still far away from equality but we are getting there very slowly.
To tell us today that we are equal to men, I don't see that in the work state. There is so much disparity in pay itself, women don't even get sometimes 1% of what men get, right? We are putting in the time, effort and energy and still not given the same, because women are easily replaceable. In the entertainment industry, you rarely make it to a point where they only want you, but if you say no to it, there will be ten other women standing to take that role for whatever amount of money you give them. This is also a reason why we are still stuck there at 1% of probably what men get. Today if I say no to films, they will go to other people, there is no value really. I don't think it's equal at all, it's a long way to go. But the fight should always be on, that's what I feel.
What about the South film industry?


In the South, they will label you as 'lady', 'lass', 'milky beauty' and it will only stop if you fight back. Half of the time it comes out because of the love fans have for you, but basic objectification is the problem. They think a woman is to objectify, They don't understand between admiring a woman and objectifying because the problem is at the education level, what we teach them as kids. If women are not educated, they will think all this is right. Then when they see the objectification, they think, 'Okay, isme kya galat hai. I love this woman actor, so I call her milky beauty'. But women are so much more than just objectifying that they don't want to see.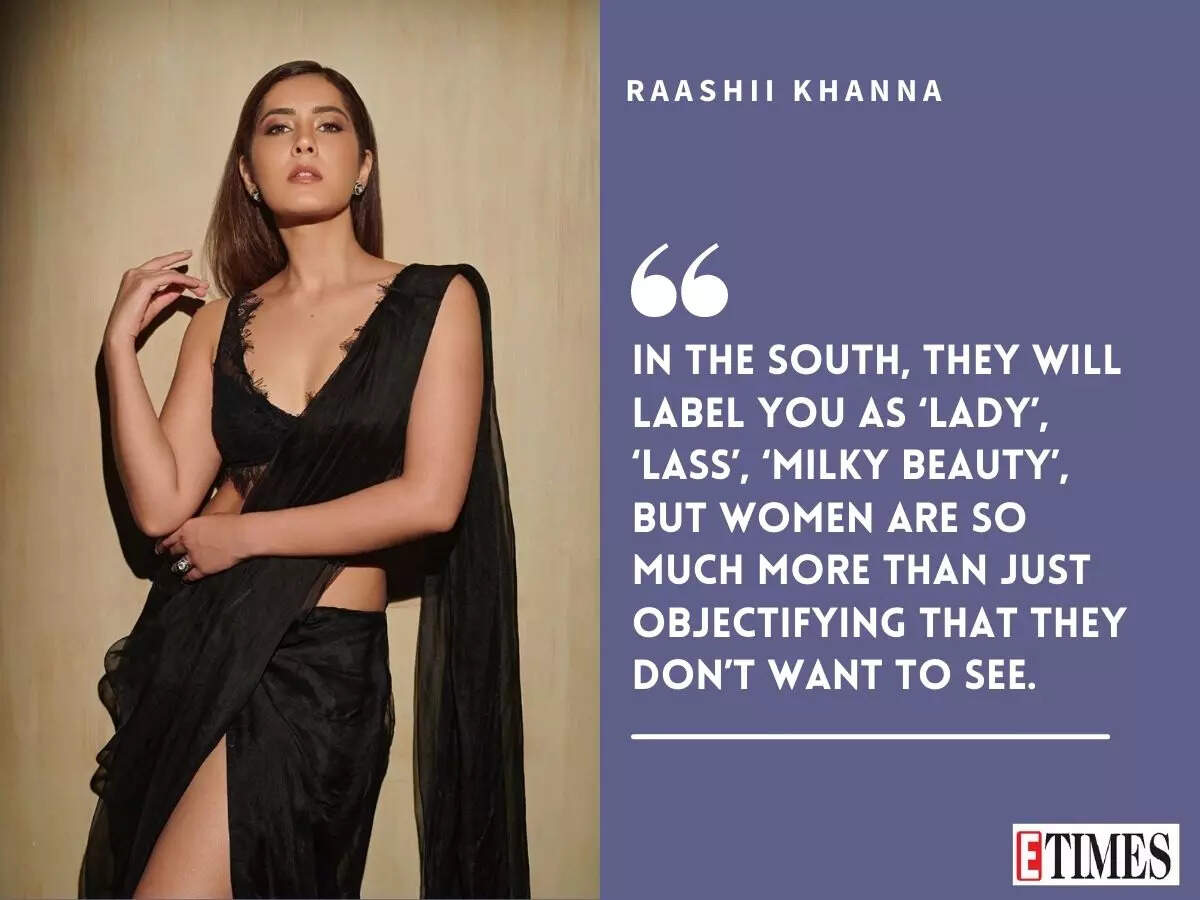 I think it's fine to admire a woman and not objectify them. Even in films the representation of women is changing slowly. We are not being reduced to glamour roles anymore. There is so much more content we can do. I think we are on the way and there is so much more to fight for.
Have you ever been taken aback by any such experience during your career in South or Bollywood?


I don't know about sexism really, but sometimes I have lost out on roles because people thought I was too pretty. There's a certain stereotype that has been created that you can either be a glamour doll or a great actor, you can't be both. Some people actually rejected me saying, 'No no, but you are too pretty for the role. We can't see you like this'. I am like, 'Take my audition and see if I can act!'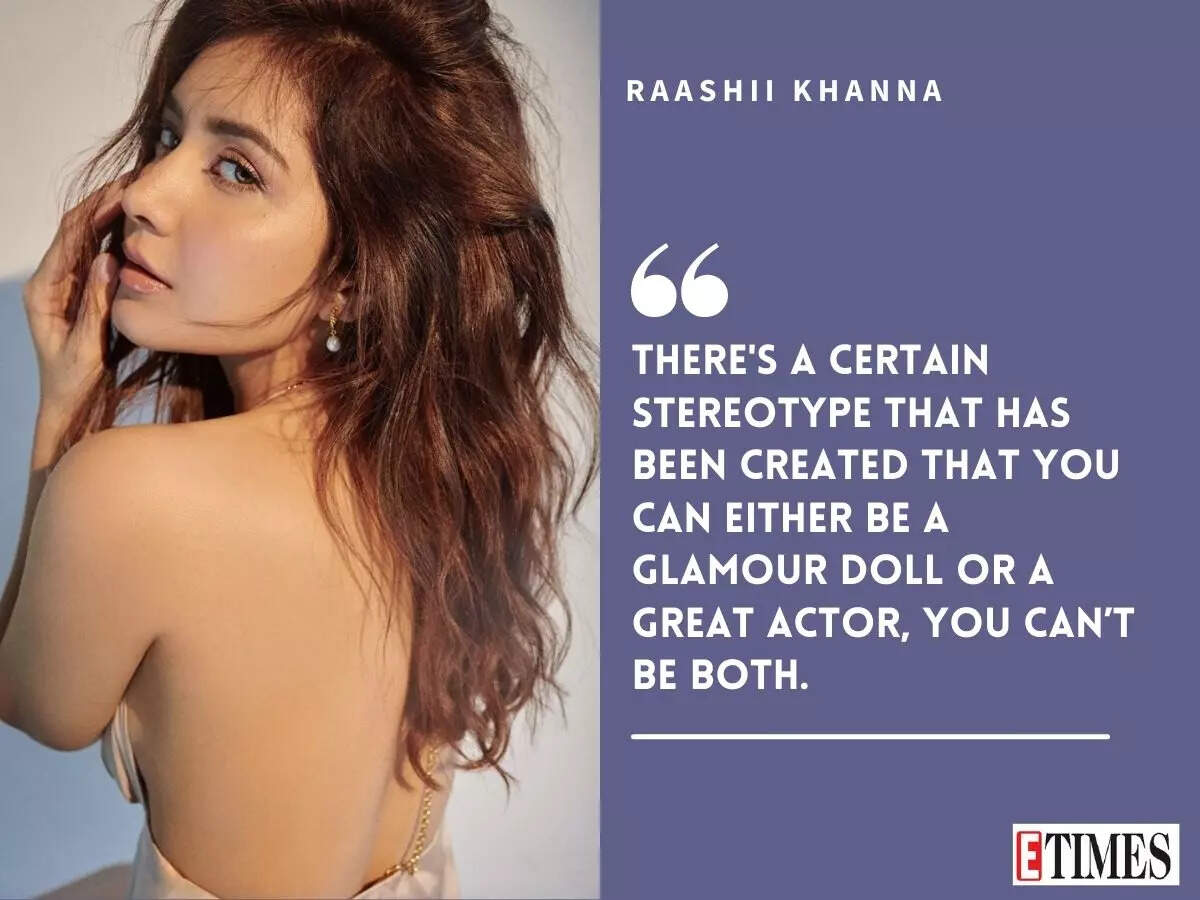 They don't want to see beyond the looks, that's what I was facing in the South where people were not taking me seriously as an actor. While I think things have changed a little after 'Rudra', it will definitely change after my upcoming projects, which I think is only a good thing for me.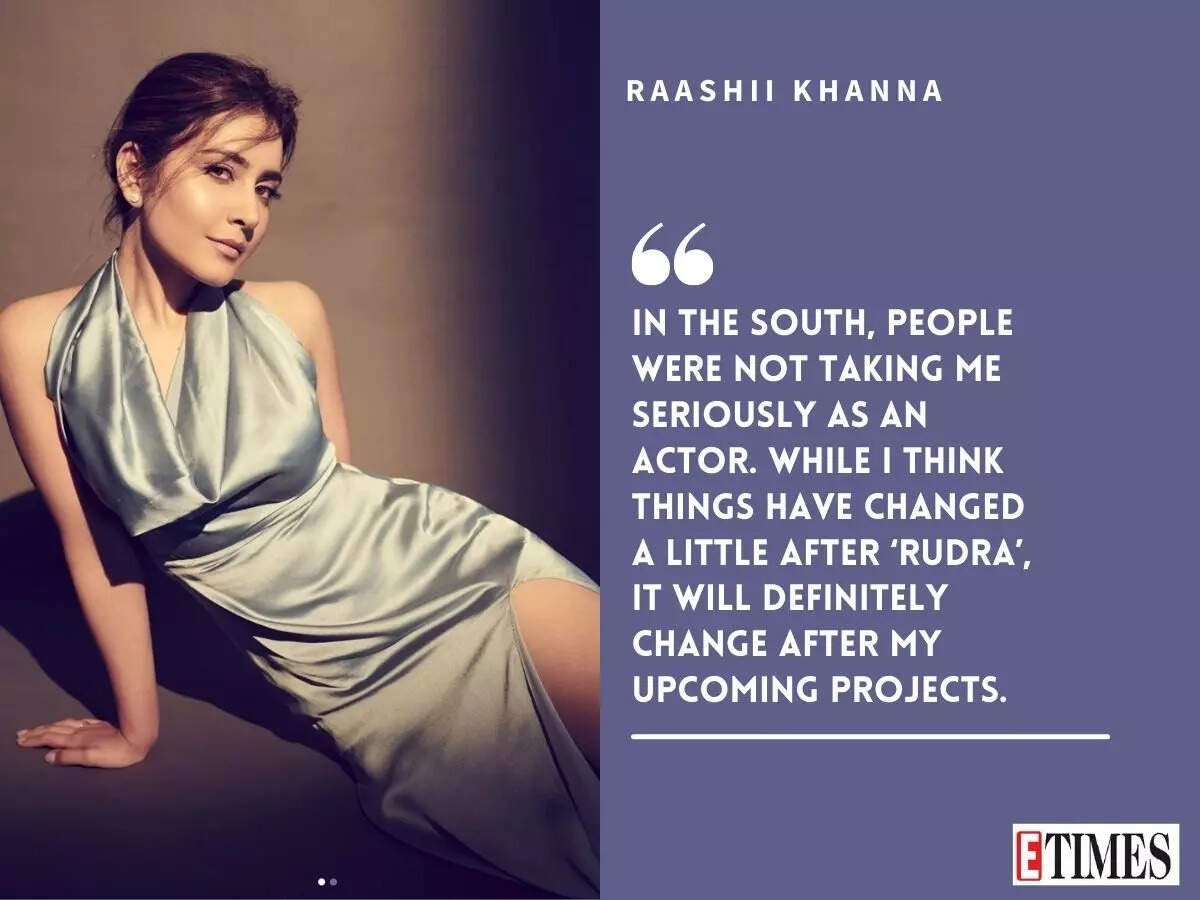 How would you sum up your acting journey so far?


It has been full of ups and downs like it has been for everybody else. For me, it's the journey and I have never thought of the destination. I have flown like water wherever my work takes me. I am blessed with great opportunities and missed some, which I don't regret because I think everything happens for a reason. There's so much more I want to do right now that people have started taking me seriously. I hope new avenues open up for me. I still feel like a newcomer because there's so much hunger for great roles, which I hope happens in the future.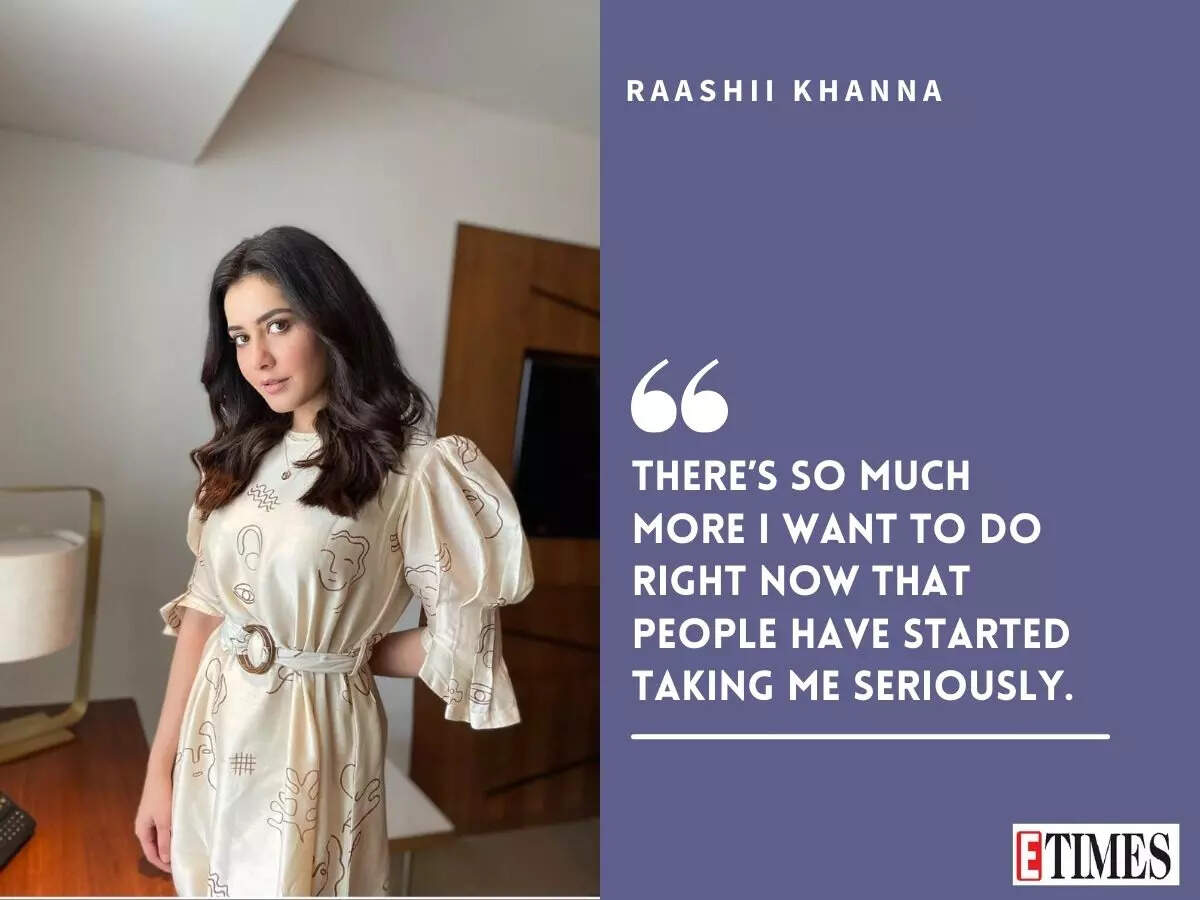 [ad_2]

Source link