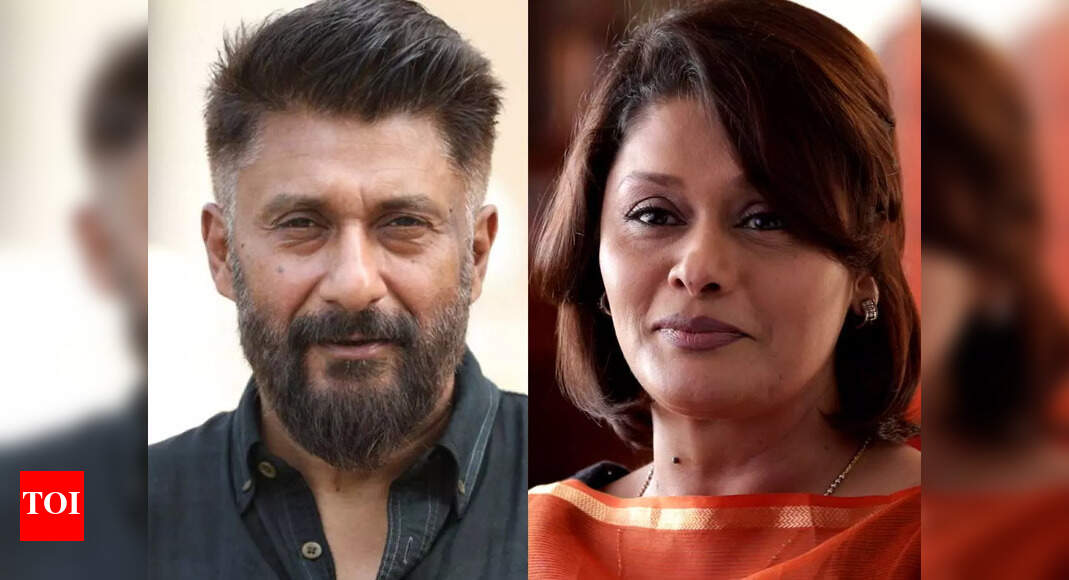 [ad_1]

'The Kashmir Files'
has broken box office records but it's found an equal amount of resistance from political and social quarters. While some have loved its brutal reflections, others have asked questions of the film's intent. But the film's director
Vivek Ranjan Agnihotri
and his better-half, producer and actor
Pallavi Joshi
brave all the questions and controversies to tell
ETimes
that they've made an honest film that highlights a bitter history and takes a stand against terrorism. Excerpts from a no-holds-barred conversation…
People say all art is inherently political. Do you agree with that statement?

Vivek Agnihotri: I would say it differently and say all politics is art.
People also say, there's no such thing as bad publicity. What are your thoughts on that?
Vivek: That's bullshit spread by bad publicists. Who says there is no bad publicity? Of course, there is bad publicity. If there was no bad publicity, the previous government wouldn't have lost. If there was no bad publicity, then so many careers in Bollywood would not have gone to the top and then crashed down just like that. Why should anybody invite bad publicity? I don't understand it. That's perversion.
As of March 23, 'The Kashmir Files' is enroute to 190 crores nett box office. How do you feel about this box office success and how much is this a validation for your craft as well as conviction in the film's story?
Pallavi Joshi: Money-wise no. Because, that was not our aim. While there is extreme happiness within all the partners, for making money because, as producers, their business is to make money and they should, because they have to make more films. But the validation really is coming from the way people are calling us, the way people are giving us ideas for future films and the way people come and meet us in the cinema halls.
I meet so many young people also whenever I go out and they all tell me that, you know, we almost had a Radhika Menon in our life, but we managed to get out of her clutches. When these things happen, you realize that the film has resonated with the masses. That every person realized the intent with which we had made it, and they have associated with the honesty of the film. I think that is true validation and the greatest satisfaction that a filmmaker can get.
Vivek: How can I afford to disagree with her? (Laughs) To think that we are getting all the accolades is the first step to doom. If you really want to destroy yourself, this is the first thing you should think of, 'Everything is happening because of me'. The number of 190 crores is not correct. We have crossed 216 crores gross as of today, worldwide. When you look at a product's business, you don't consider only India, you always look at a global stage. We take everything inclusive, so 216 crores it is.
The Kashmir Files has become a polarising film, dividing opinions and drawing diverse reactions. How do you feel about that, did you expect it to be such a popular subject?
Vivek: I think it's a great social service. It's a great service to democracy that you polarise between the evil and the good. Actually, I will not use the word polarise, I would say differentiate and segment people who are pro humanity, people who believe in human values and human rights, and the people who are from the terrorism industry. People who give ideological or intellectual or media support to terrorists. So today on one side, we have a huge number of people who believe in humanity, and the other side has very small numbers. By the end of this week, this film would have been seen by 2 crore-plus people. Out of the 2 crores people who saw this film you won't find a single person who will say this film is a polarising film. People who support terrorist groups are the ones criticising the film. The Kashmir Files is not dividing or polarising it is differentiating between Ram and Raavan.
What would you say to those people who are, who are being critical towards The Kashmir Files? Would you ask them to go watch the film and then give their opinions?
Vivek: Why should I say anything to terrorists? I would tell the people who believe in humanity to defeat and destroy the terrorists.
One of your writers, Saurabh M Pandey, said in his interview that you wanted to show the mistakes that have been made in history, so that we can learn from them and we don't repeat them. Was that the thought behind making The Kashmir Files?
Vivek: If history is a bitter truth, then what can I do about it? It doesn't mean that we will stop showing history to the people. If there's a patient and if the medicine is bitter, it doesn't mean you won't give the medicine to the patient.
When the film released, Vivek started off with strong steps like deactivating his Twitter account, having claimed that he received death threats. Pallavi how do you react to such a stressful situation?

Pallavi: That was not the moment to react. Those thoughts had already crossed my mind, even before I said yes to the project. I guess it was a little delayed response on my part because we knew these things would come our way. There will be different types of hurdles. We will be made to feel that we should stop making this film, but our minds were made up and there was only one way to go, and that was forward. So, we kept doing that. And today we're sitting here with the film and so many people having watched it. I think what we did was correct.
You also claimed that a fatwa was issued against you on the final day of the shoot of the film.
Vivek: Yeah. We knew the terrorists would oppose it.
Pallavi: Unfortunately, the people who had to leave the valley were thrown out of there because of their faith. This was a religious war, too. We knew that we would be walking on very thin ice because the minute we talk about terrorism, it gets associated with a certain religion. Although we are not talking about the religion in the film at all, we are just talking about these bunch of terrorists who have destroyed the valley completely, stripped it off its culture, heritage and traditions. Everything that the valley stood for. There were rivers of blood running through the valley. So when we talk about them and the kind of slogans they were giving out in the name of their religion, we had to show that. We knew that there would be a certain section of society, which without seeing the film, is going to think that we've made some anti-Islam film.
We were ready for that, but I'm so glad that a huge number of people have seen The Kashmir Files and these people are now telling those people that it's not a film against any religion, it's against terrorism. And I think we should all stand against terrorism, it's the only correct thing to do.
You stated initially that Bollywood wasn't supporting your film, there was even a raging debate about you not getting a spot on The Kapil Sharma show. Yet, over the past few days, big stars like Kangana Ranaut, Akshay Kumar, Yami Gautam, Aamir Khan have come out to lend support and a voice to your film. Does it feel like a battle won?
Vivek: No! I'm not here to prove anybody wrong or defeat anyone. We make our films on our own. We are outside of Bollywood. We are just the opposite of Bollywood. We are the alter ego of Bollywood. We are independent filmmakers. I have no problems with who appreciates, who doesn't appreciate. I had just made a video on how one of the top film influencers and a very powerful person who represents the establishment of Bollywood, tried to sabotage and malign my film using fake news and hate propaganda. She was indulging in hate propaganda against my film. If I'm the creator of the film, it is my moral and ethical duty to defend my film. That's why I made that video. As far as the Kapil Sharma episode goes
I'm a fan of Kapil Sharma. I watch his program, even though we don't have a TV. It's not that I have anything against him. I understand how this system functions. It was because people were trolling me and they were after my life asking me, 'Why don't you go? Why don't you go on The Kapil Sharma show?' And it started appearing as if I have something against the show. So I just said, 'Zee Studios told us officially, that when they tried to tie up with the show they were told by the show that we cannot invite the team because it does not have big stars. This is the official reason.
Zee won't lie and I have all the reasons to believe this because I have also been part of Bollywood, so I know how it functions. The same media, which was not giving us an inch of space, today, all of them are coming and talking to us. It's not that we have won a battle.
Vivek, you started off with movies like Dhan Dhana Dhan Goal and Chocolate, but with Buddha In a Traffic Jam made a soft transition towards independent cinema.
Pallavi: It was a very hard transition, certainly not a soft one.
Vivek: I wish nobody has to make that transition.
But it worked out for you. Was it an organic transition or were you forced into it?
Vivek: The thing is I'm not cut out for that system. I am a person with integrity. It's my integrity and I want to work with talented people. I want to do creative work and to showcase Indian films as a soft power to the world. I was not enjoying the system I was working in. How can a star get it written in a contract that he will have the creative control and the editing control and the marketing control over a film? Who the hell are you? I'm the creator and it is a creator's medium. It should be a writer's and director's medium. Nobody gives you time to research. Nobody gives you time to write scripts. People will come and change the scripts. Your film, your talent, your competence is as good or as bad as your star. Suppose today I work with an unknown person, then my status as a filmmaker will be according to that. But if I sign a big star, then my status swells up. If you work with the badshah, then you are the Badshah, but if you're not working with the badshah then you're a runk. You are nobody. I wanted to break and challenge that system. I came out of it and we are independent filmmakers and we do everything on our own now. And we are very happy.
You've also said that you'll probably make a web series on this subject. So how is that coming along? Are you working on it or your focus is going to be on The Delhi Files?
Vivek: We are doing The Delhi Files. As far as the web series is concerned, I don't have to do much because we have almost all the material we need because we shot most of it. We need some good people who can put it together and we can supervise and make it. That's going to be interesting, but somebody has to fund it. Somebody has to finance it. Somebody has to commission it. Why don't you ask Junglee Pictures to help us out? It's a national heritage. Imagine no studio in Germany being able to fund or acquire video testimonials of all the Holocaust survivors. In India, we should not miss out on this chance.
Going forward, do you feel it's going to be a lot easier for you to make films?
Vivek: We invite difficulty.
Pallavi: It should become easy for people like us. Maybe not us directly, but I hope that younger filmmakers now get the required incentive and encouragement, having seen the success of this film, to come out and tell their own stories in the way they want to.
Popular and cult films have drawn public interest before, but it's rare to see a film drawing so much interest from active political corners, organisations. Why is that?
Vivek: When you make a film on the LGBTQ community, everyone from their community; people, activists, and writers, everybody gets involved. When you make a film on the education system, like the brilliant film by Rajkumar Hirani, then everyone from education gets involved. Similarly, when Rang De Basanti came along, all those associations and organizations, which were concerned about the army and defence and human rights, all of them got involved. This is a political film. It's one of the most complex, politically sensitive, political issue based film. So it's but natural for the media and politicians to get involved.
The second reason they are getting involved is for 32 years both politicians and media have created a kind of ideological shield to cover up. And there has been a lie being told for 32 years. Now that shield is being shattered and the real faces are out. Therefore, they are rattled and therefore they are so involved.
A word about your cast. Anupam Kher has done a great job with his role.
Vivek: She is the casting director. She has insisted since we conceptualised Buddha In A Traffic Jam that we will cast only actors.
Pallavi, how happy are you with the kind of feedback that your cast has received?
Pallavi: I am extremely happy because I know the entire cast put in their absolute best. Chinmay Mandlekar, Darshan Kumar, Prakash Belawadi, Mrinal Kulkarni and Puneet Issar have all done a fabulous job. Mithun Chakraborty brought the emotions alive and Anupam Kher has literally shattered hearts with his tragic drama. I can write volumes about the cast of 'The Kashmir Files'.
How are you feeling about all the reactions to 'The Kashmir Files'?
Pallavi: I'm getting some really beautiful videos like that of a Kashmiri Pandit woman crying in the theatre, and some people going up to her, consoling her and saying, 'we are sorry, we didn't know your story for so long, but we are with you'. The emotions that this movie is evoking in people, it's bringing them all together. I think that is a divine feeling.
Vivek: I am happy about the conversations. People who believe in humanity and integrity and, integrity of India, they are bringing their facts and people who belong to the terrorism industry and we're supporting the terrorists by saying that so many people died, not so many people died, they are also bringing their half-truths or facts, whatever they can, but at least people are discussing facts.
[ad_2]

Source link